Chemistry Club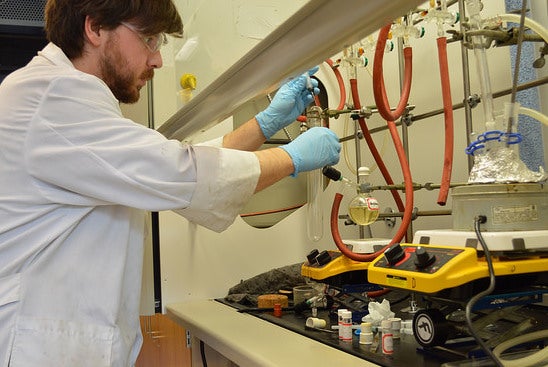 The Chemistry Club is an organization for undergraduate chemistry and biochemistry majors at Georgetown. Throughout the school year, Chem Club hosts social events, offers free tutoring sessions, and provides outreach to the Georgetown community as a whole in order to establish and foster a strong community for students in the Chemistry Department.
To learn more about Chem Club please visit: https://sites.google.com/view/chemclub
2021-2022 Chemistry Club Board
Presidents: Rachel Palmer (C'22)
Vice-President: Julia Alvey (NHS'22)
Treasurer: Amalia Cappuccino (C'22)
Secretary: Adrian Kalaw (C'23)
DEI Representative: Aanya Agarwal (C'24)
Volunteer Coordinators: Jennifer Guo (C'23)
Social Coordinator: Daniel Staas (C'24), Lucia Lavallee (C'25)
Freshman Representative: Lily Guo (C'25)

Recent Activities are Highlighted Below:
Tutoring Opportunity for Georgetown Students
Tutoring Services
Chemistry Club provides free tutoring sessions to help anyone taking General Chemistry or Organic Chemistry. Tutoring takes place in Regents Hall 351 from 8-11PM, Wednesday and Sunday nights throughout the school year.
Social Events
In order to foster a sense of community among majors at all levels, the Chemistry Club has organized several events throughout the year. Most notably, the Chemistry Club annually celebrates Mole Day (10/23), Chem Club BBQ, and Chemsgiving.
Mentorship Program
The Chem Club has a mentorship program connecting underclassman and upperclassman majors in the Chemistry Department. The purpose of the mentorship program is to provide support throughout the year, provide an opportunity to develop a strong community, and to discuss academic and professional goals.
Volunteering at Georgetown Hospital
This program was started during the 2000/2001 school year by a group of undergraduates in the Chemistry Club. Initially, students would go over a couple times a month to perform hands-on demonstrations for the children at the pediatric unit of the Lombardi Cancer center. Our members do experiments such as Invisible Ink, Making Slime, and Baking Soda Volcanoes. The kids love it!
Previous Chemistry Club events may be found included "Liquid Nitrogen Ice Cream Party," "Chemistry Club Barbeques," "Research Opportunities Information Session," and more. For more information, contact Prof. Yang and/or the Chemistry Club.