Congratulations to outstanding graduate students
Posted in News
On April 24th, Georgetown recognized outstanding graduate students for their contribution to research, teaching, and community at Georgetown through the Graduate Student Awards Ceremony. The awards are co-sponsored by the Graduate Student Government (GradGov), Biomedical Graduate Education, the McCourt School of Public Policy, McDonough School of Business, School of Continuing Studies and the Graduate School of Arts Sciences. Two members of the chemistry graduate student community were recognized at this awards ceremony.
Amy Ngo was awarded the Graduate Student Teaching assistant award which recognizes excellence among graduate students serving as TAs.  Awards are given to one student from each area: humanities, social science and science and an at-large award.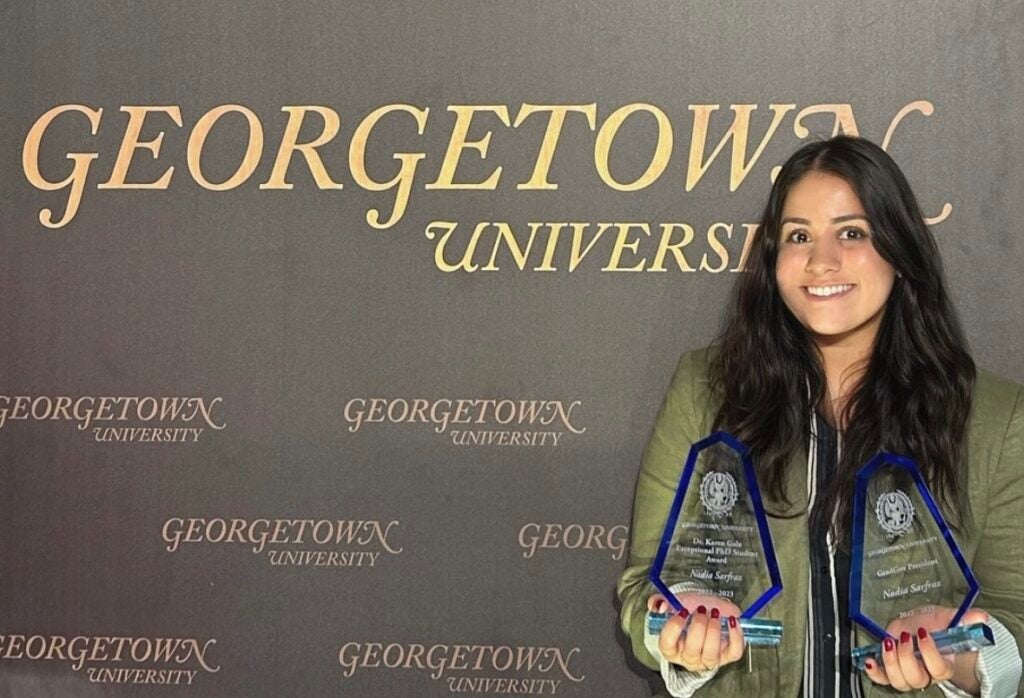 Nadia Sarfraz (shown above) was recognized with two awards, the Dr. Karen Gale Exceptional Ph.D. Student Award and the Graduate Government President's Leadership Award. The Dr. Karen Gale award recognizes a Ph.D. graduate student with high excellence and expertise in their field. This can include academic and research achievements, excellence beyond coursework, and commitment to their study area. The leadership award recognizes a student leader in the GU community that has contributed substantially to the progress and support of graduate students through active leadership.
Congratulations to these two excellent graduate students.