Degree Program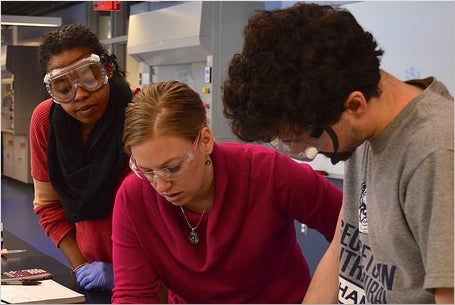 The Department of Chemistry offers a rigorous program leading to the Doctor of Philosophy (Ph.D.) which prepares graduates for a variety of careers in industry, government, and academia. Our Ph.D. program is well-suited for students interested in doing in-depth study in the following areas of chemistry:
Upon arrival, each student is assigned a temporary mentor to assist him/her with the transition to our Ph.D. program. In the first semester of study, graduate students are required to take placement exams in each of the five fundamental areas of chemistry—analytical, biochemistry, inorganic, organic, and physical. These are designed to assist with course placement and to diagnose any area deficiencies. In conjunction with the temporary mentor, the student develops an appropriate course schedule for the upcoming semesters.
During the first semester, new graduate students attend an orientation program where faculty describe the research being conducted in their respective labs. Given the cross-disciplinary nature of our program, students are not expected to have decided upon a field of research before arriving to Georgetown; on the contrary, open-mindedness and a willingness to explore new areas are encouraged. At the conclusion of the orientation program and after meeting with five faculty members individually, the student selects a permanent research mentor. Once the student selects a research mentor, a program of research, coursework, seminars, and self-study is tailored to fit the student's needs and interests.
Since original research is the most important part of graduate study at Georgetown, the graduate program is designed to prepare and encourage students to move into research activity as soon as it is appropriate. Well prepared and motivated students may begin their thesis research in their first semester; by the end of their second semester, all students will be engaged in their thesis research.
Students are required to take a total of six courses from a wide range of general and specialized topics. At least one course must fall under each of three themes—Methodology, Structure, Kinetics, and Spectroscopy—and two approved elective courses. Two additional courses, seminar participation, and research works will complete the thirty two credit requirement for students matriculating with a B.S. degree, and a twenty six credit requirement if entering with an M.S. degree. Generally, the coursework is completed within the first three to four semesters. A list of chemistry courses offered, their descriptions, and syllabi may be found in the Course Catalog with the Office of the University Registrar. Students with graduate-level credit from other institutions may be excused from some requirements. Students are expected to maintain high academic standards (a B average or better) in order to remain in good standing in the Ph.D. program.
In the second and third years of graduate studies, students take two comprehensive examinations. The first consists of both a paper about the student's ongoing research project and an oral defense before a faculty committee. The second entails a written proposal on an original research topic and an oral defense of the proposal before a faculty committee.
After the comprehensive examinations, the final step toward the Ph.D. is the preparation of a written doctoral dissertation. The dissertation is the culmination of a student's research, education, and training in the graduate program. The dissertation, which demonstrates the student's important contribution to a field of human knowledge, is defended before a faculty committee. Graduate Program Flowshart for a Ph.D. in Chemistry.